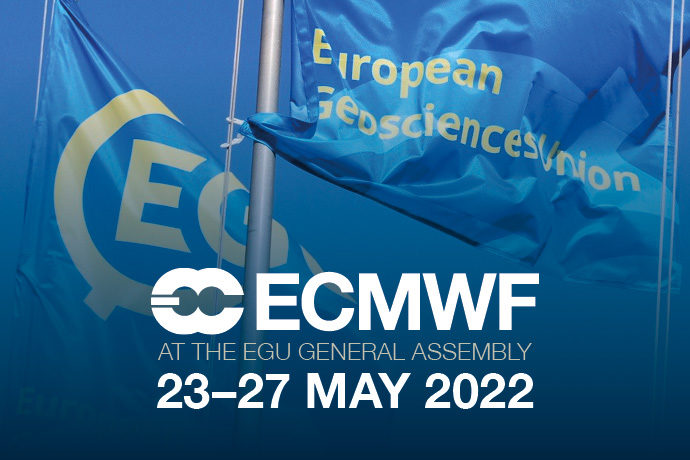 Background image © EGU, licensed under CC Attribution 4.0.
The annual General Assembly of the European Geosciences Union (EGU) is being held from 23 to 27 May 2022 in a hybrid format, both in Vienna (Austria) and online.
This is Europe's largest geosciences event, with sessions covering all disciplines in the Earth, planetary and space sciences. The full programme is available on the EGU22 website, and you can find out below when ECMWF staff are convening sessions or speaking.
All presentations at the EGU22 will be in the format of 'short orals'. They can be viewed either in-person or online.
Presentation/session

Date and time (CEST)

ECMWF staff

Improving NWP forecasts through the direct 4D-Var assimilation of space-borne cloud radar and lidar observations (virtual presentation)

Mon, 23 May

11:09–11:16

Mark Fielding

Marta Janiskova

Solicited talk: Recent and planned NWP developments at ECMWF (virtual presentation)

Mon, 23 May

11:37–11:47

Phil Browne

Co-convener of session CL4.1

Tue, 24 May

15:10–18:17

Gianpaolo Balsamo

Co-convener of session OS4.7:

Data assimilation techniques and applications in coastal and open seas

Wed, 25 May

10:20–11:50

Phil Browne

CliMetLab and Pangeo use case: Machine learning data pipeline for sub-seasonal to seasonal prediction (S2S) (on-site presentation)

Wed, 25 May

14:13–14:19

Florian Pinault

Co-convener of session HS6.1:

Thu, 26 May

13:20–16:34

Patricia de Rosnay

Offline models for statistical post-processing of surface weather variables (on-site presentation)

Thu, 26 May

15:31–15:38

Zied Ben Bouallegue

Lessons learned from developing a multi-model hydrometeorological forecasting system

Thu, 26 May

13:55-14:02

Fredrik Wetterhall

Convener of session AS1.4:

Fri, 27 May

08:30–11:02

Sam Hatfield

Co-conveners of session AS1.20: Subseasonal to seasonal prediction: processes and impacts

Fri, 27 May

08:30–11:45

Francesca Di Giuseppe

Frederic Vitart

Storm-resolving simulations with IFS-NEMO/FESOM in the NextGEMS project

Fri, 27 May

10:27–10:34

Thomas Rackow

Tobias Becker

Xabier Pedruzo Bagazgoitia

Irina Sandu

Recent advances in the application and utility of subseasonal-to-seasonal predictions (Highlight)

Fri, 27 May

10:33–10:38

Fredrik Wetterhall

The skill of sub-seasonal hydrological prediction over Europe

Fri, 27 May

10:58–11:03

Francesca Di Giuseppe

Fri, 27 May

13:53–13:59

Margarita Choulga